Step-by-Step Procedure
---
Travel expenses may be paid or reimbursed provided the trip and reimbursement request are approved by authorized campus personnel. Creating a Request in Concur is the first step in the process and must be completed prior to purchasing airfare.
An approved Request is required to:
• Establish travel budget
• Populate Concur Locate for UO Safety and Risk's duty of care requirements
• Book airfare either through the booking tool or the travel agency
Steps to Complete
1.) Log in to Concur at https://concur.uoregon.edu using your Duck ID and password.
2.) On the top navigation bar, click Request, click Create New, New Request
Enter required fields, indicated by a red bar. Business purpose should be thorough and complete and clearly demonstrate the benefit to the university. Once you have entered all required fields, click the blue Save button. This will open the Segments tab where you will enter any airfare, lodging, rental cars or train segments needed for your trip.
Provide Business Purpose for travel
Enough detail should be included so anyone unfamiliar with travelers department or program will be able to determine the benefit to the UO. Details should include who traveled, what they did, why they traveled, and any details deemed important to explain the circumstances. Spell out acronyms.
Travelers can provide documentation to explain the business purpose, e.g. email confirming appointment, conference or meeting agenda, grant abstract, etc. When documentation is not available, travelers should provide a daily log to document a business purpose for all days for which expenses are claimed. The log should include dates, name(s) of the organization(s) involved; names and positions of individuals visited/consulted; places, monuments, or institutions visited; or other descriptions as appropriate. A description of the activity should be specific and mention, for example, the research topic, paper title, etc., as appropriate.
1.) Inadequate Descriptions:
Attend Conference
Research Book
Collaboration
Meet with Colleagues
Site Visits
Give a lecture
Speaker
2.) Adequate business purpose descriptions with additional notes to offer supporting details:
Attend and present at the Gatlinburg Conference on Research and Theory in Intellectual Disability. The conference is March 5-7 at Hotel Allegro in Chicago, IL. This is in support of xxx grant objectives. Two personal days at end of the trip. Comparison airfare quote attached shows business only price is more than actual air expense.
Field trip to the Mojave Desert to study vertebrate fossil sites. Research agenda, grant abstract attached.
In state mileage for fall term to attend events, board meetings and town hall meetings, meet with alumni, conduct student recruitment, and meet with marketing representatives and UO colleagues to discuss recruitment efforts. Specific trip details outlined in the attached mileage log.
Click on the Segments tab. This is where you will enter the transportation and lodging portions of your trip. Once your report is approved, you will get a Book button on the request. See additional instructions for how to book from an approved Request.
Click on the airplane icon to begin planning flights
1.) Click on Round Trip, One Way or Multi Segment
2.) Enter the approximate amount of airfare
3.) Enter Outbound information, include preferred departure time
4.) Enter Return information
Click on the car icon to add a rental car for your trip. When booking air, you may choose to "Skip" this step and add it at a later time.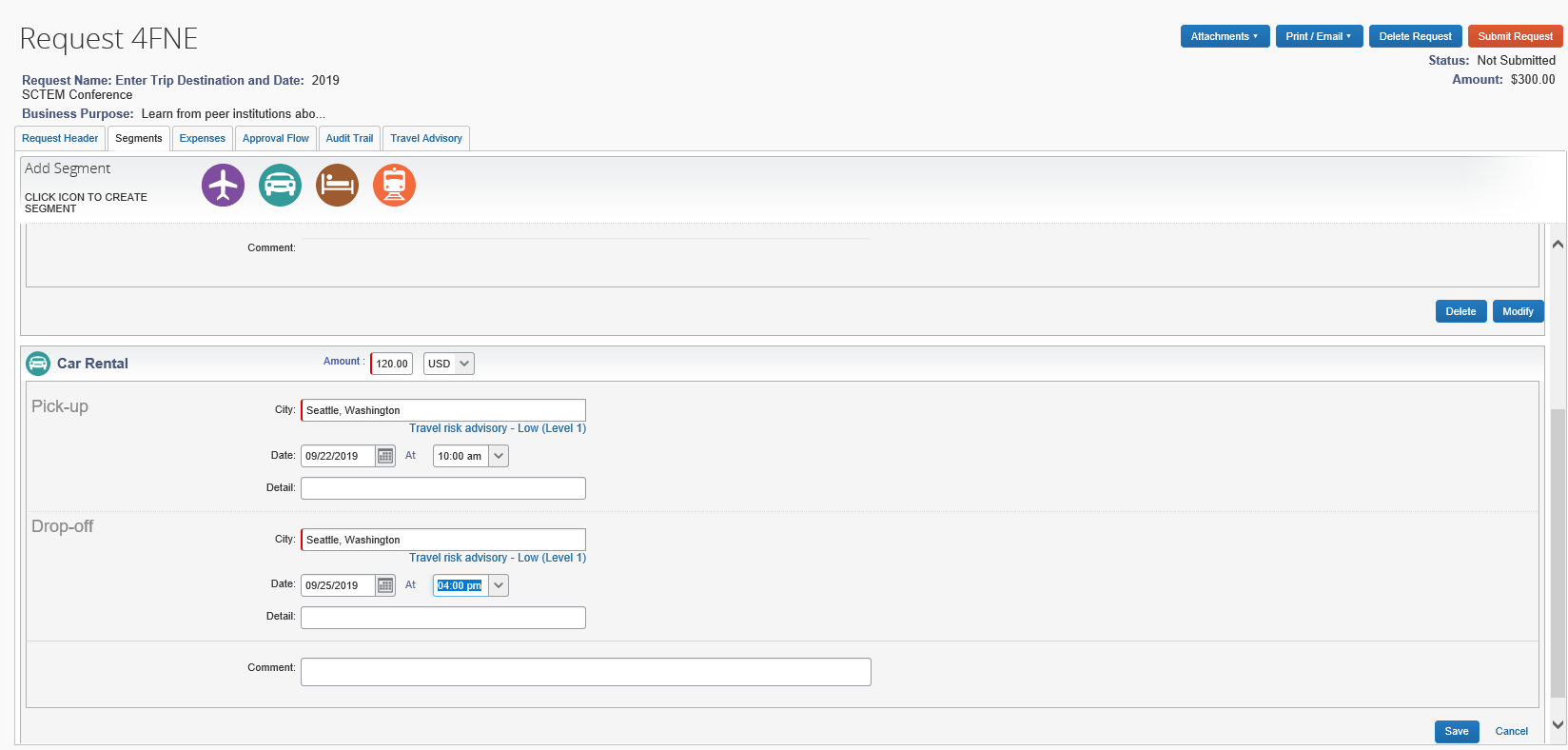 2.) Enter the City where you will pick up the car
3.) Enter the city where you will drop off your car
4.) Add any comments that may be relevant, e.g. sharing car with multiple travelers from UO
Click the bed icon to add lodging to your trip. When booking air, you may choose to "Skip" this step and add it at a later time. Note when using a conference hotel, enter the budgeted amount. However reservations will be booked according to directions provided from your conference and not in the Concur booking tool.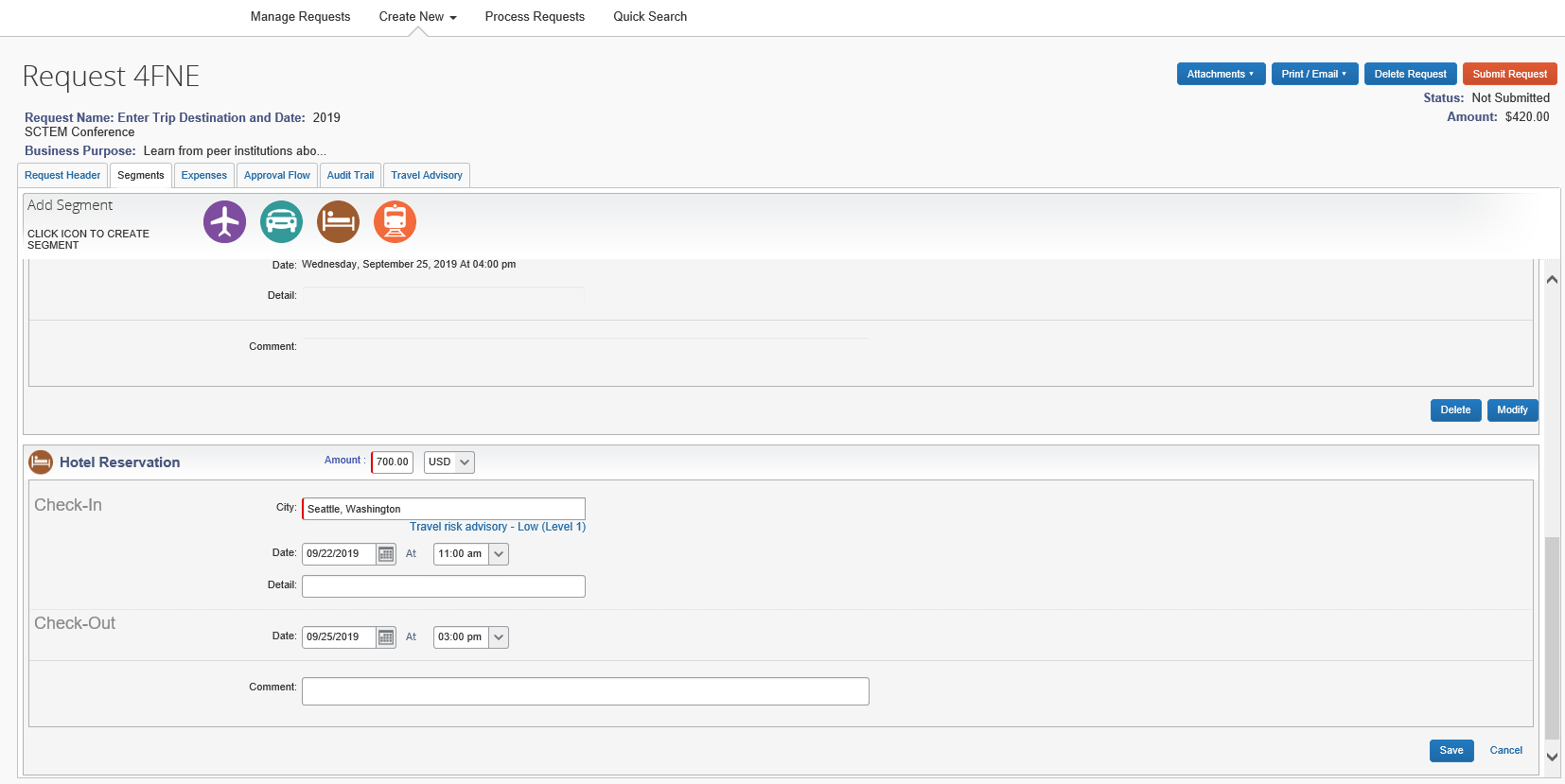 3.) Verify check in and check out dates
Click on the Expenses tab. Click on Expense Type, enter the required information. (Required fields are indicated by a red bar.) The following examples are provided for the most common expenses.

Click Save.
Once you are satisfied that everything is correct, click Submit Request.

If you have requested personal travel in conjunction with your business trip, the request will be reviewed by the Travel Office for compliance prior to department approval. You must provide comparison airfare for business vs business + personal travel. It is preferred that you obtain this quote from your Travel Management Company.