UKG Ready Time & Attendance
Background
This fall, the UO is expanding the use of the UKG Ready automated timekeeping system. UKG Ready will eventually be adopted campus-wide, providing a more accurate university payroll, and more efficient means of collecting employee work hours and time off.
What is UKG Ready ?
Ultimate Kronos Group (UKG, formerly Kronos) is the company behind automated time and attendance system Workforce Ready. We call it UKG Ready or Ready for short. It is a time entry and leave management system that collects hours worked and/or leave used from employees, obtains supervisor approvals for time sheets, change requests, and time off requests, and then feeds this information to the university payroll system. Time clocks are used where large numbers of employees report to a central work area without access to a computer. In office environments employees can use their desktop computers. Departments can also choose to allow employees the option of using their personal cell phone for added convenience.
Why Automated Time and Attendance ?
Accuracy
The university needs to ensure that all of its employees are paid accurately including for any overtime, shift differential or premium earnings they are entitled to according to labor laws, UO policy and collective bargaining agreements.
Efficiency
Employee hours, premium earnings, holidays, and leaves are automatically calculated and loaded into the Banner payroll system.
Employees will more easily see available leave balances when requesting time off.
Department payroll administrators will no longer have to track down timesheets, correct them, and manually enter hours totals into the Banner payroll system.
Managers can maintain work schedules for their employees and be notified when an employee is unable to report to work.
Records
Employees and the university need access to accurate records to properly adjudicate potential wage disputes.
Managers need access to information on employees reporting to work in order to manage their most valuable resource, people.
Consistency
Adoption of a single system ensures that all earnings, holidays and leaves of those who use it are calculated the same way. A single system also provides an opportunity to standardize other business practices across the organization such as the pay period for hourly employees.
Long Overdue
UO is among the last PAC 12 and AAU institutions to adopt an automated time and attendance system. It is the right way to operate a large and complex payroll.
Who ? (Participating Departments)
Ultimately, the university administration intends to adopt automated time and attendance for use by all employees across campus.
Three existing installations of UKG Ready (EMU, Athletics and Housing) have been in use for many years. This fall existing users will be migrated to a new university platform that is more fully integrated with the Ellucian Banner payroll system.
In fall 2022 most administrative units will adopt UKG Ready including: all units under Finance and Administration, Division of Student Life, and Student Services and Enrollment Management, as well as the Office of the General Council, JSMA, Information Services and UO Libraries. Once administrative units are operating efficiently, academic units will begin to onboard their employees.
When ? (Schedule)
We plan to train employees and managers in administrative units who are new to UKG Ready in August in preparation for a September 2022 launch.
Governance
Project sponsors are Mark Schmelz, Kelly Wolf, and Melody Riley Ralphs.
Co project managers are Mark McCulloch and Jon Marchetta.
A UKG Ready Service Advisory Board will be formed after implementation that will bring service providers; Business Affairs, Human Resources, and Information Services, together with representatives from participating departments. The advisory board will make decisions regarding; system configuration and funding model changes, upgrades, adding features, contract renewal, service deprecation and replacement.
Training Videos
Non-Exempt (overtime eligible) Employee Training:
Intro and Login (5 minutes)
Dashboard tour (7 minutes)
Web clock and timesheet (7 minutes)
Request time off (8 minutes)
Missed or late punch, change request (8 minutes)
Transfer between cost centers (for employees with multiple jobs, or who work different venues) (8 minutes)
Mobile App
In Touch Clock
Exempt Employee Training:
Intro, login and request time off (14 minutes)
Mobile App
Manager Training: We recommend that managers also watch the employee training videos above
Changes/Impacts
Adoption of a new instance of UKG Ready is an opportunity to standardize some inconsistent university business practices. The following changes are supported by our project sponsors; HR, BA and Information Services.
Change is difficult and must be supported and well communicated. We are resilient and will adapt to get the most value from this new service.
We have discussed the following changes with SEIU representatives and will continue to address any concerns and keep union leadership informed as this project progresses. Union representatives, along with our department champions are critical change agents and information conduits.
Here are some of the changes in business practice we will make as participating departments and their employees begin to use the new instance of UKG Ready.
Software
Employees in units already using UKG Ready won't notice any change in the software. Employees new to UKG Ready will need learn to use it. There will be online training and support available from trained department champions.
Exempt Employees
Employees exempt from the Fair Labor Standards Act (FLSA) and not eligible for overtime will simply request time off in UKG Ready. Most Officers of Administration and some Classified employees are exempt. Exempt Classified employees, since they are eligible for differentials will schedule times in and out each day and adjust times as needed. Employees unsure about their FLSA status can reference their position description or ask their department payroll administrator.
Non-Exempt Employees
Employees subject to the Fair Labor Standards Act (FLSA) and eligible for overtime will clock in and out daily using whatever method is most practical for their environment, (timeclock or computer). Departments may also allow their employees the option of using their mobile phone. The mobile app is very convenient and does report employee location at the instant they clock in or out. It does not track employee movement before or after they clock.
Clocking in and out is a best practice adopted by most UKG clients and is supported by the university administration. It allows the system to automatically calculate overtime, shift differential and other premium earnings.
Most non-exempt university employees already using UKG Ready clock in and out.
Managers
Managers will be notified when an item is added to their To Do list. They should approve time off requests and change requests throughout the month as needed, and must approve employee timesheets before the payroll deadline each month.
Hourly Employees
Hourly employees are currently paid mid-month to mid-month at the end of the month on a lag. The pay period varies from department to department because a standard pay period was never adopted and enforced university-wide. This inconsistency is confusing for employees and makes it difficult for the Payroll Office to comply with a state law that requires the pay period to be printed on each employees' earnings statement.
All departments using UKG Ready will adopt a standard pay period for hourly employees. We want to pay employees as quickly as possible with the shortest possible lag.
The UO will adopt the 16th to the 15th as the new standard monthly pay period for all hourly employees. This pay period may not be practical for some large departments with limited payroll staff and tight deadlines to obtain approvals and make adjustments. Departments with a pay period currently ending on the 12th or earlier can request an exemption and adopt 13th to the 12th until system efficiencies and staffing allow them to move to the new standard 16th to the 15th. While this is the eventual goal, there is no exact timeline on when transitions to the standard hourly will occur.
No hourly employee will experience a one time decrease in the number of paid days in their pay check when we transition to a new pay period.
'Forecast Pay' or 'Classified Salaried'
About 200 classified employees are paid current from the 1st to 31st without a lag. Although this practice was largely discontinued several years ago, these employees will continue to be paid as they are now, current with no lag. If non-exempt, they will clock in and out so the system can calculate overtime and other premium earnings.
FAQ
1. How do I login ?
Login using your Duck ID Username and Password at ukg.uoregon.edu
2. Will I clock in and out ?
The criteria that determines clocking is Fair Labor Standards Act (FLSA) status of the position.
Employees in positions designated 'Non-Exempt' from FLSA or 'FLSA subject' (overtime eligible) will clock in and out so the system can automatically calculate overtime and other premium earnings like shift differentials.
Note: Some classified positions are designated Exempt and some unclassified positions are designated Non-Exempt.
If an employee is unsure about their position's FLSA status they can either reference their position description, or ask their department payroll administrator who can run an emloyee roster report which shows FLSA status.
The HR Fair Labor Standards Act webpage describes FLSA status and is a good resource for understanding this. Exempt status is a position classification decision determined by Human Resources.
3. Will I request paid time off ?
Yes, all employee groups eligible for paid time off will request time off.
4. Will all university departments use UKG Ready ?
Ultimately yes. In fall 2022 most administrative units, not already using UKG Ready will on board. See contact list below. Once these units are settled and using the system successfully remaining units, including academc units, will on board.
5. Which employee groups on campus will use UKG Ready ?
Classified employees, officers of administration, students, and temps) will use UKG Ready. Currently there is no plan to require faculty or GEs to use the system for leave reporting. We may however, on board faculty who manage other employees to automate approvals.
6. What device will I use to clock in and out ?
Time collection method, physical clock or web clock, is a decision each department will make. Check with your department's payroll administrator.
In departments adopting the web clock, employees will use their university computer to clock. These employees will also have the option of using the UKG Ready mobile app on their personal mobile device.
7. Does the mobile device track my movements ?
No. During installation, the UKG Ready mobile application prompts for access to user location. If the user allows access to their location during install, then the application will record user location (pin on map) at the precise moment the employee clocks in or out.
8. What if I forget to clock in or out ?
If an employee forgets to clock in or out or clocks in early or late for any reason they will simply submit a change request that will then be approved by their manager. We anticipate lots of change requests as employees learn to use the system. Clocking in and out typically becomes routine in a week or two.
9. Will I clock in and out for meal and break periods ?
There is no need to clock out for breaks as this is paid time. Clocking out for unpaid meal breaks is a department decision. UKG Ready can be configured to require that an employee clock out for meals or, it can be configured to automatically deduct either a 60 or 30 minute meal period each work shift. Clocking for meals is a best practice because it provides evidence on the timesheet that the employee was indeed provided a meal break in accordance with Oregon labor rules which state, "Meal periods of at least 30 minutes must be provided to non-exempt employees who work 6 or more hours in one work period. No meal period is required if the work period is less than 6 hours."
10. What if I clock in before my shift begins or after it ends, will this result in overtime ?
Employees subject to the Fair Labor Standards Act who are eligible for overtime will earn overtime if they work more than eight hours in a day (unless the employee's request for a flex schedule was granted) and/or more than 40 hours in a week. Overtime must be authorized in advance by the employee's manager.
With timekeeping systems there is a potential for increased incidence of small amounts of overtime as employees begin clocking and perhaps punch in a few minutes before their scheduled shift begins or punch out a few minutes after it ends.
As employees begin to use the timekeeping system managers should discuss with their employees any unique demands of the position that impact work schedules and authorized overtime.
11. Will UKG Ready round the actual time I punch in and out ?
No.
The Fair Labor Standards Act (FLSA) does allow rounding of time punches using up to a 15 minute increment as long as it is fair and does not advantage the employer.
Campus payroll administrators evaluated various rounding rules and the implementation team decided against rounding time punches.
12. How can employees access their time records ?
Employees can access their timesheets at any time by logging into UKG Ready using their Duck ID username and password. Simply click 'My Timesheet' on the employee dashboard and navigate back or forward to the desired pay period using the arrows.
Non-Exempt employees will see raw punches and calculated totals of each earning type for each day on their timesheet. There is also an audit trail for each change made identifying who made the change..
The university retention schedule for time records is six years, however there are no plans to remove time records from UKG Ready.
13. Will classified employees on 'forecast pay' keep the same pay period and be paid without a lag ?
About 200 classified employees are paid current from the 1st to 31st without a lag. Although this practice was largely discontinued several years ago, these employees will continue to be paid as they are now, current with no lag. If non-exempt, they will clock in and out so the system can calculate overtime and other premium earnings.
Look and Feel
Dashboard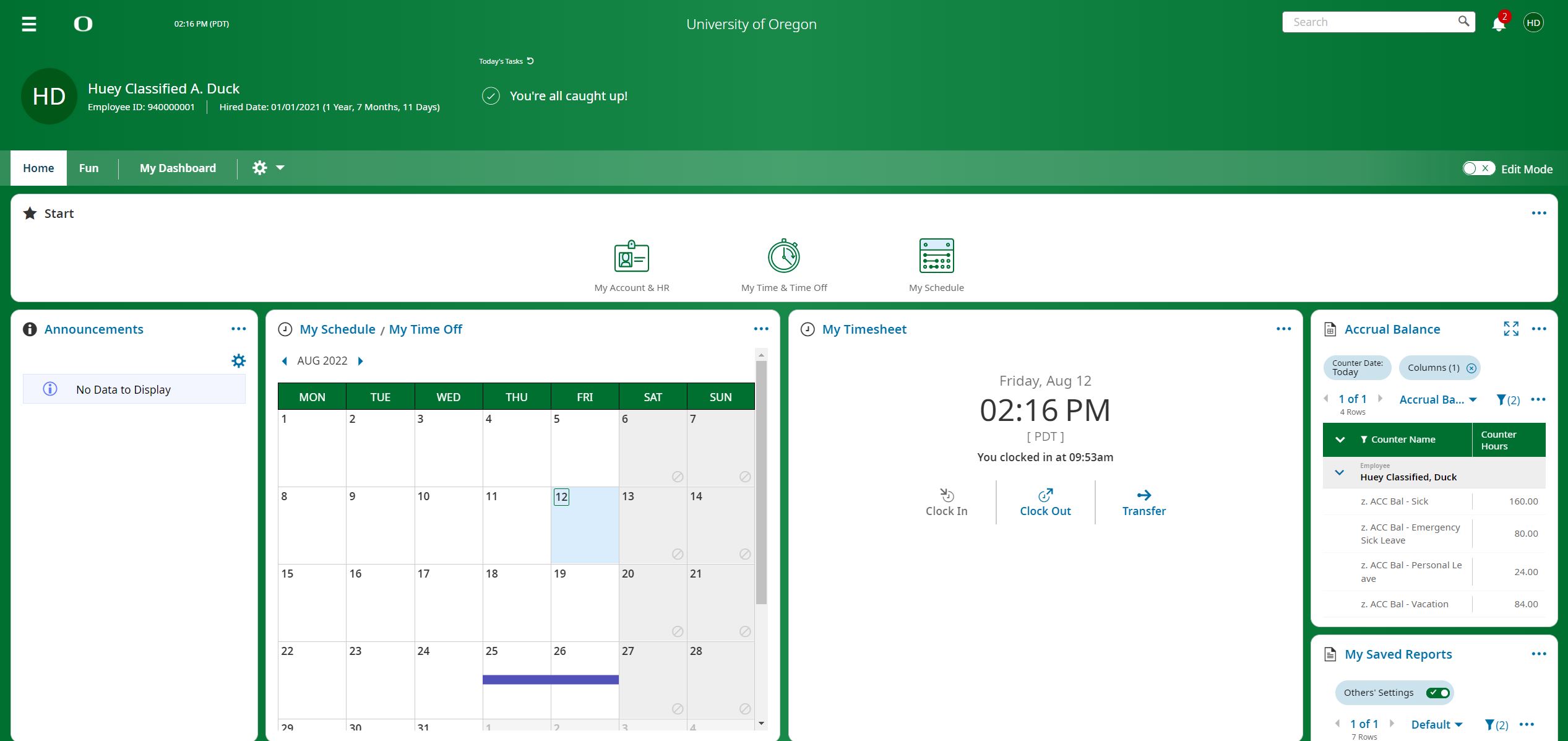 My Timesheet (non-exempt)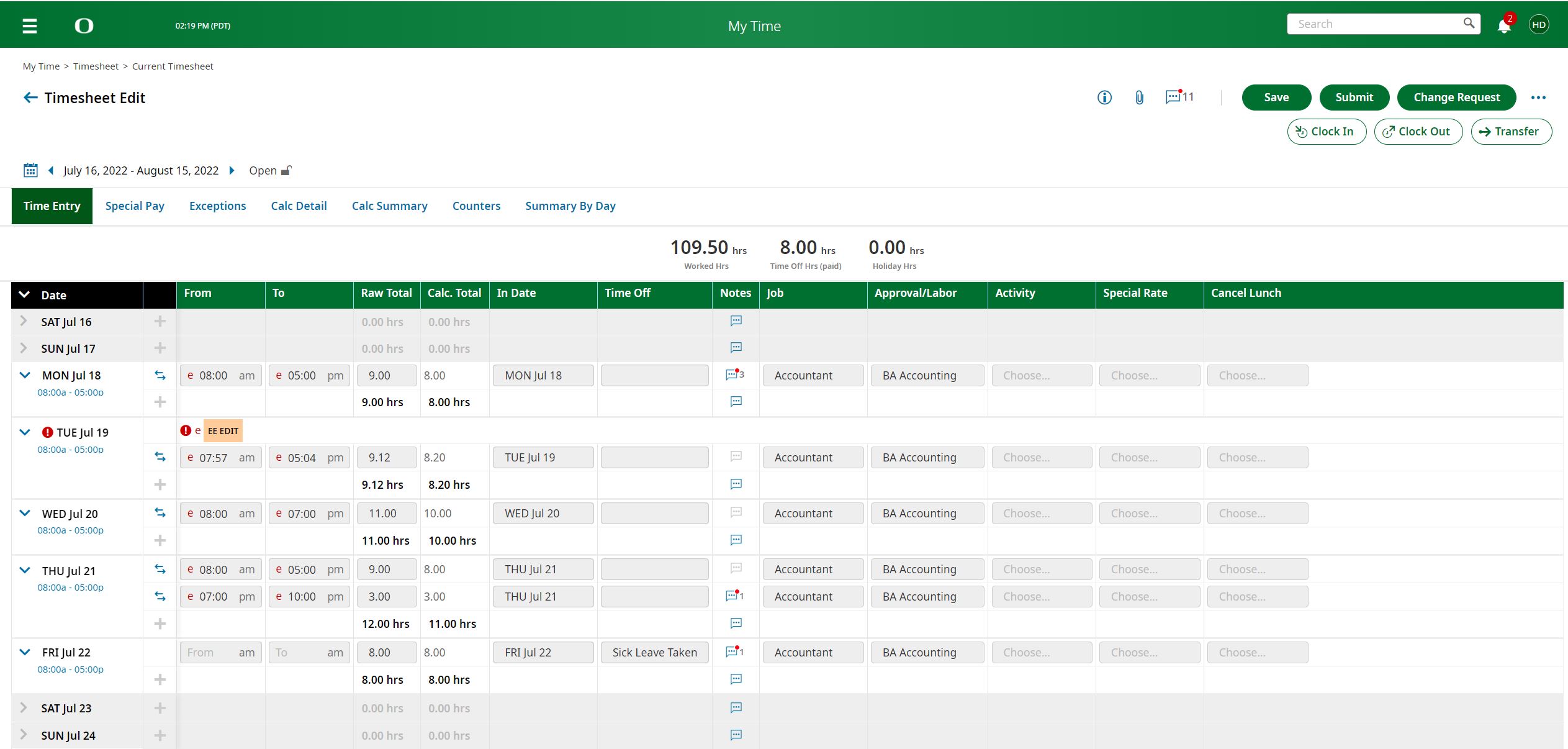 My schedule (hourly)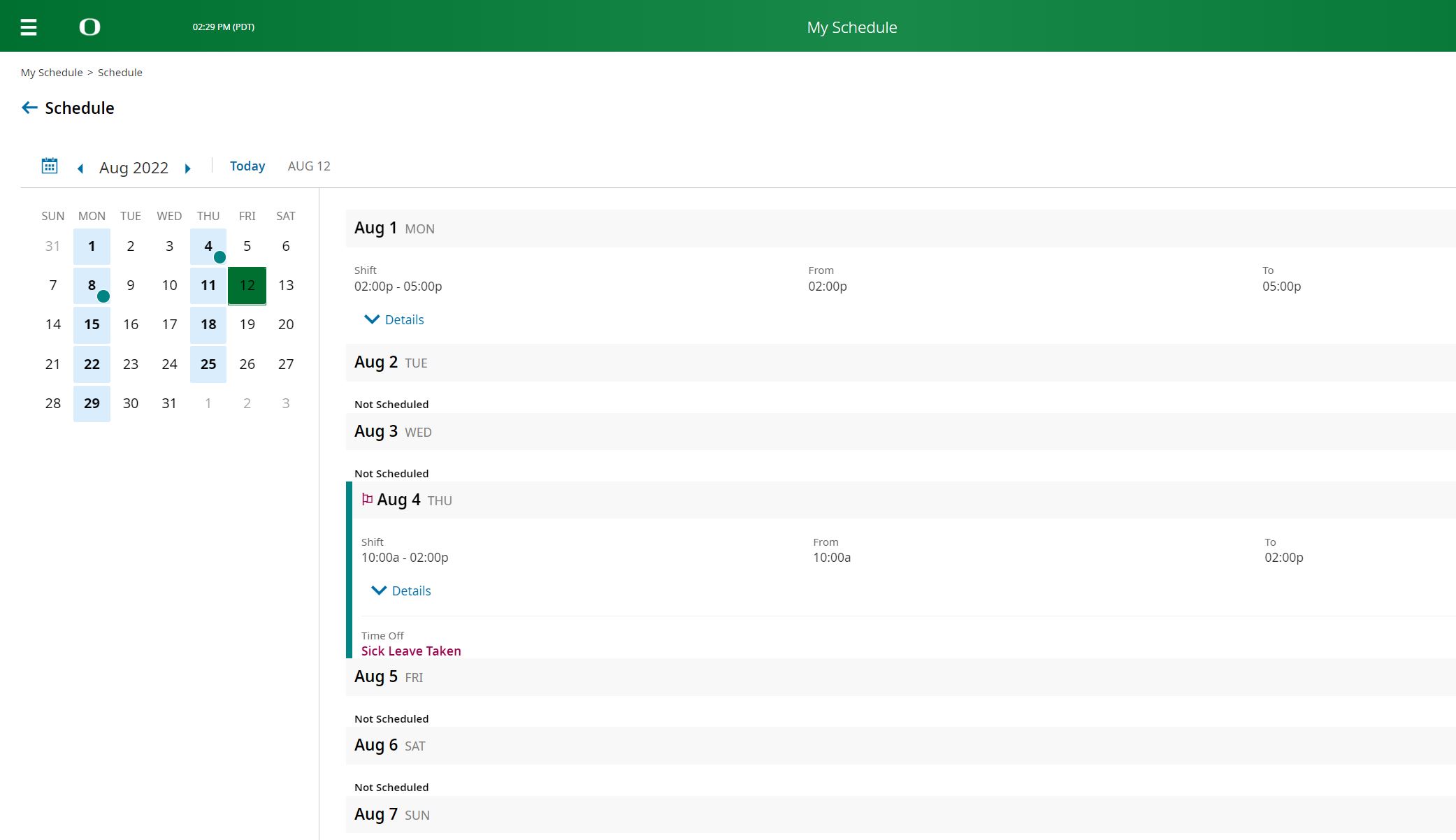 Request Time Off (exempt and non-exempt)
Approve Time Off (manager)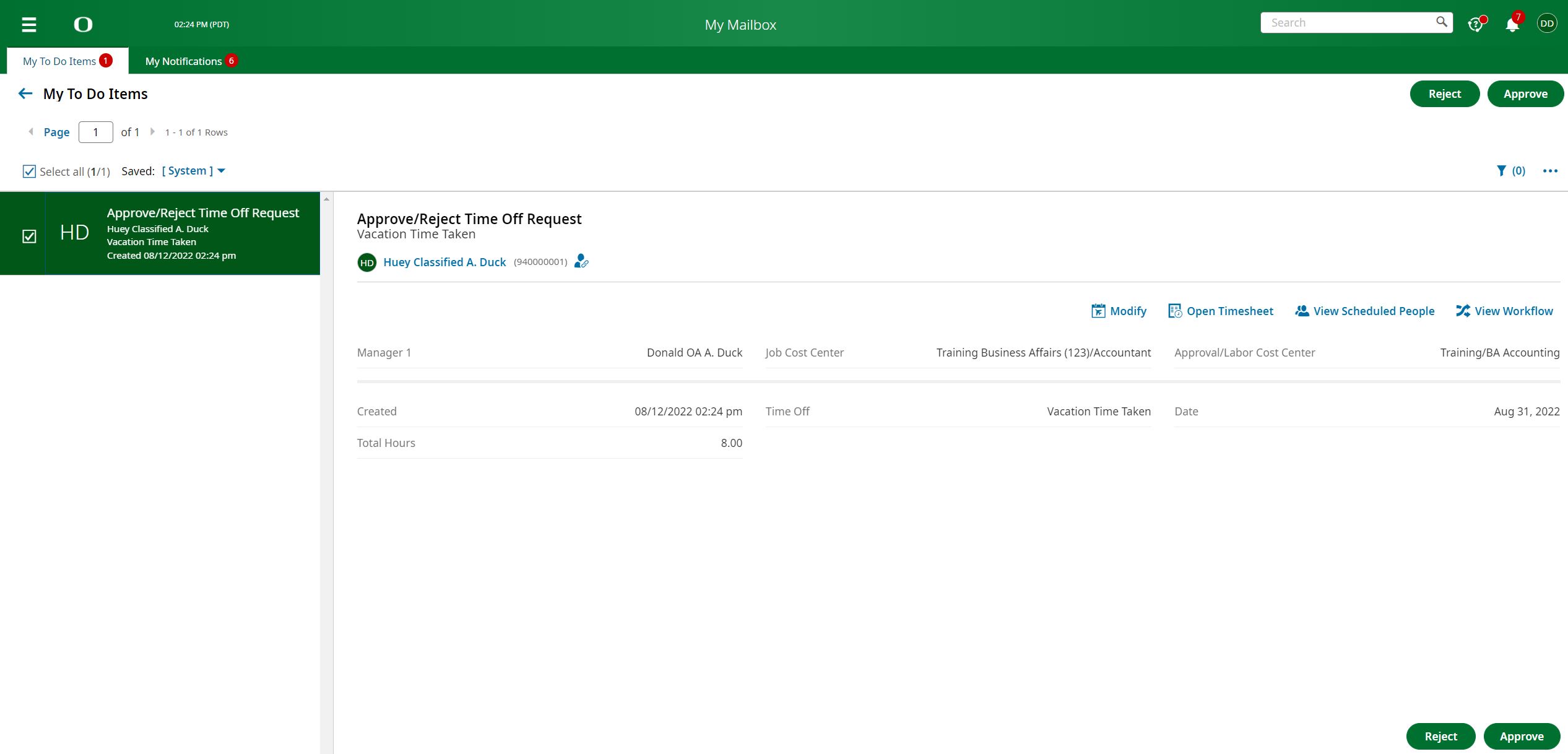 Approve Time Entries (manager)

Contacts
If you have questions please contact co-project managers Mark McCulloch (mmccullo@uoregon.edu) or Jon Marchetta (jmarchet@uoregon.edu), Director of Payroll Services Ben Kane (bkane@uoregon.edu) or your department champion listed below:
| | | | |
| --- | --- | --- | --- |
| Department | Payroll Admin | Organization Code | Go Live |
| Finance and Administration Shared Services: | Elizabeth Seider | 410210 | Sept 22 |
| | Kathleen Duberowski | | |
| | Patrick Moore | | |
| | Megan Delaney | | |
| | | | |
| Campus Planning and Facilities Management | | 450000 | Sept 22 |
| Safety and Risk Services | | 410800 | Sept 22 |
| UOPD | | 460000 | Feb 23 |
| Transportation Services | | 460509 | Sept 22 |
| Vivian Olum Childcare Center | | 445100 | Sept 22 |
| Printing Services | | 433301 | Sept 22 |
| Office of the VPFA | | 400000 | Sept 22 |
| Human Resources | | 440000 | Sept 22 |
| Information Services | | 263000 | Feb 23 |
| Office of the President | | 101000 | Sept 22 |
| Omsbuds Office | | 110200 | Sept 22 |
| UO Board Secretary Office | | 106010 | Sept 22 |
| Government and Tribal Relations | | 110299 | Sept 22 |
| Internal Audit | | 410600 | Sept 22 |
| Office of Investigations and Civil Rights Compliance | | | |
| | | | |
| | | | |
| Division of SSEM | Angie Peatow | 262002 | Sept 22 |
| University Health Services | Volga Koval | 490000 | Sept 22 |
| | Turi Holte | | |
| | Alex Lundy | | |
| | Natalia Cota | | |
| Housing | Carol Hardy | 470000 | Sept 22 |
| | Crystal Sappe | | |
| | Haunani Nagel | | |
| | Ian Samhammer | | |
| | Marla Dodson | | |
| SSEM Central offices | Abigail Erwin | 262000 | Sept 22 |
| Admissions | Susan Stumpf | 262100 | Sept 22 |
| | Alice Kane | | |
| Orientation | Molly Maxwell | 267981 | Sept 22 |
| Financial Aid | Thana Schafer | 262300 | Sept 22 |
| Registrar Office | Keri Durrell and Kaira Chandler | 262200 | Sept 22 |
| Testing Center Operations | Keri Durrell and Kaira Chandler | 267530 | Sept 22 |
| Continuing Professional Education | Debbie Johnson | 150001 | Oct 22 |
| | Laura Abbott | | |
| | | | |
| Student Life (Vice President's Office, University Career Center and Office of the Dean of Students) | Amanda Rosenberg & Kathryn Caley | 422000 | Sept 22 |
| Student Life (EMU) | John Kostick | 425001 | Sept 22 |
| | Ellen Grant | | |
| Student Life (PE&Rec) | Wilma Baker | 266900 | Sept 22 |
| Jordan Schnitzer Museum of Art | Karri Pargeter | 530000 | Sept 22 |
| Library | Monica Wan | 250000 | Jan 22 |
| | Evey Lennon | | |
| | Justin Demsky | | |
| Business Affairs | Holly Syljuberget | 430000 | Sept 22 |
| | Ben Kane | | |
| | Mark McCulloch | | |
| | Lisa Knox | | |
| | Jody Bleisch | | |
| | Mindy Schmidling | | |
| | | | |
| Budget, Financial Analysis and Data Analytics | Donna Chittendon | 400500 | Sept 22 |
| Advancement and Communications | Sandi Ash | 500000 | Sept 22 |
| Athletics | Rachel Beckman | 480000 | Oct 22 |
| | Michael DeMartini | | |
| Purchasing and Contracting Services | Christy Dotson | 432000 | Sept 22 |
UKG Ready Mobile App
The UKG Ready mobile app is an option for employees working in departments who have decided to use the UKG Ready web clock instead of physical time clocks. Note: Nothing prevents an employee from also using web clock on their mobile device through a browser.
In the Android or Apple store install the UKG Ready app shown below with the right arrow icon,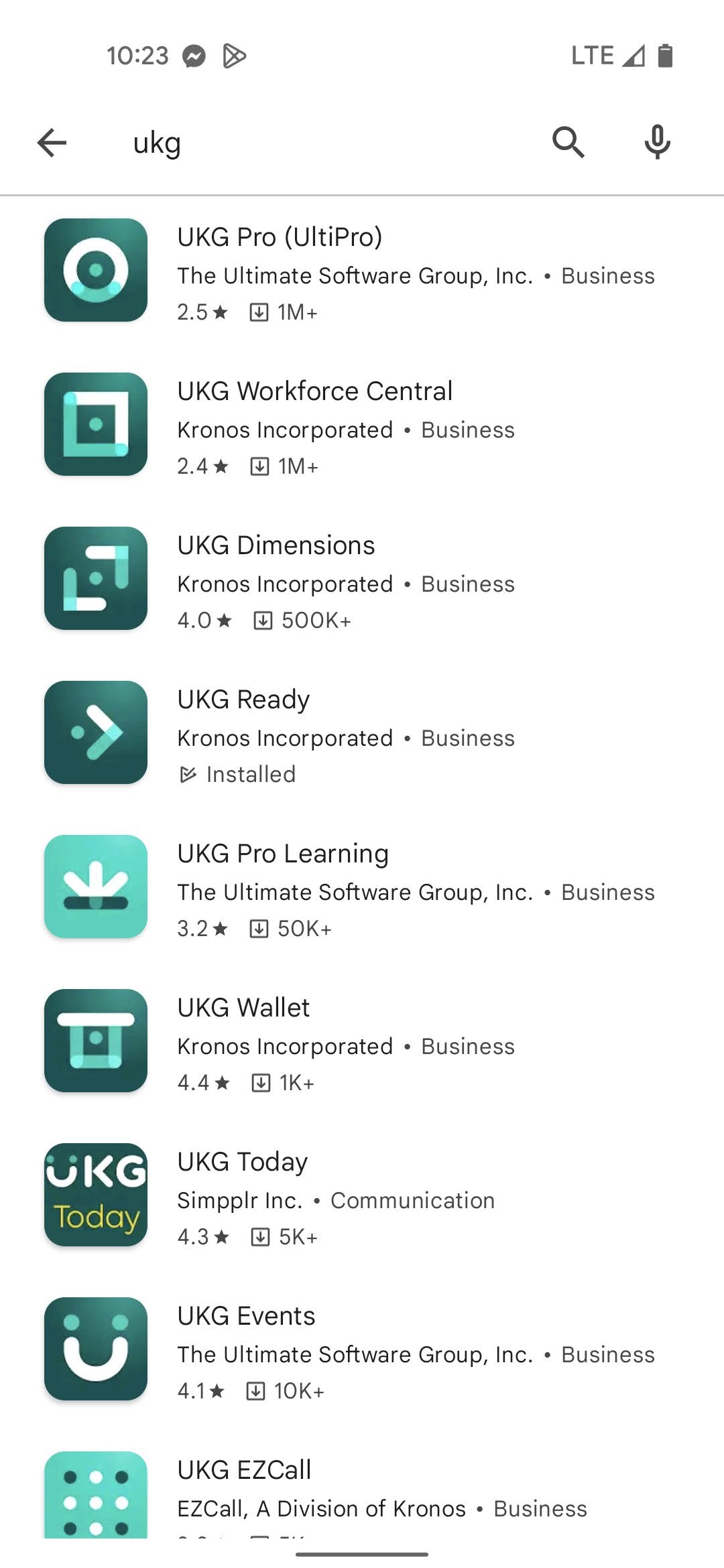 The first time you login the UKG Ready mobile app will prompt for region (North America) and company short name (6178092),